 Florian Renschin, Founder of FREIMUT Wodka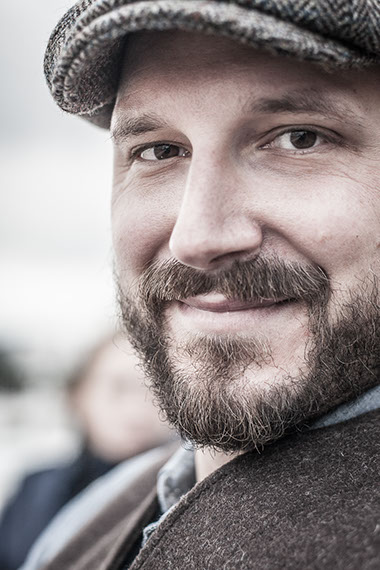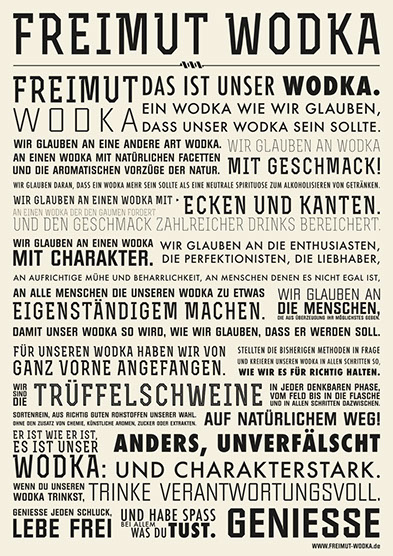 FREIMUT WODKA . This is our vodka.
A Wodka as we think our Wodka should be.
We believe in a Wodka with natural facets and
the aromatic benefits of nature.
We believe in a Wodka with taste.
We believe that Wodka should be more
than neutral spirits to "just" mix alcoholic drinks.
We believe in a Wodka with character, a Wodka
that tickles your taste-buds and
creates a richer taste of numerous drinks.
We believe in a Wodka with character.
We believe in the enthusiasts, the perfectionists, the connoisseurs.
In constant effort and in persistence.
In people who care about what they´re doing,
in people who turn our Wodka into something individual.
We believe in people, who give their very best to create our Wodka the way we think it should be.
We questioned the standard methods of production.
Then we proceeded step by step, creating FREIMUT Wodka according to our individual standards. From grain to bottle.
Genuine, with the best ingredients of our choice.
Pure. Without chemical additives.
Without artificial flavour. Without sugar.
This is FREIMUT Wodka: a German Wodka.
Different. Pure. And of strong character.
If you drink our Wodka, be responsible.
Enjoy every sip, live free and have fun.
Enjoy FREIMUT Wodka whenever you want. Nowadays craft isn't always what it is supposed to be. To us, however, craft means being in charge of every single step.
Free from the pressure of industrial efficiency we try to achieve the best in every single step.
Organic Wodka - does it even make sense? Originally we did not plan to create FREIMUT as an organic Wodka. It just happened by trying to fulfill our own guideline "to make everything as pure as possible".
"We never intended to make FREIMUT an award-winning Wodka." At all times it was simply our approach to create a superb German Wodka and to keep the taste.
But obviously we are delighted that FREIMUT Wodka has been winning various awards since.



FREIMUT Spirituosen GmbH
Wiesbaden
Germany
Tel.: +49 611 880 4708 – 0
Fax: +49 611 880 4708 – 1